In last week's post, I discussed the most common reason for pitching illegally: crow hopping. We looked at what it is and what generally causes it. Today, I'm going to share some pitching drills that may be helpful in breaking this habit.
Remember, the number one cause of illegal hopping in windmill pitching is poor core strength. In addition to attempting to address the problem with the drills I'm about to suggest, check out all of Joe's posts. They contain extremely valuable exercises with sample videos. For core and general pitching strength, this one and this one are good places to start.
Windmill Pitching Drills to Stop Illegal Hopping
There is a very specific moment in the drive-through that you'll need to focus on and get right. When you begin to propel yourself forward off the pitching rubber, your foot should drag along the ground a little BEFORE your stride foot lands. This is what that looks like: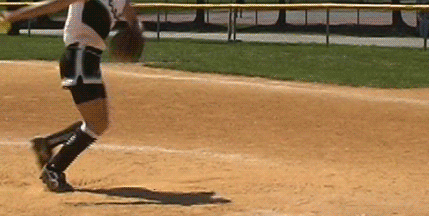 If you have a crow hop in your pitch, this is the part that you're not getting. Notice the line being drawn in the ground as her foot drags forward with her body momentum before she even lands. This pitcher is very strong and advanced, so you foot may not move that far forward by the time you land. That's ok. Even about half the distance of hers is ok to start, as long as it is moving and it's moving along the ground.
Drill 1: Introducing the Beginning of the Drive-Through
Watch the moving image above carefully. Now, do exactly what you see in the image. Push aggressively off the pitching rubber with a ball in your hand and stop at your landing, making sure the pre-landing portion of the drive-through is happening. Your drive-through knee should be pointed forward and your big toe should be grazing the ground. Do this literally hundreds of times. The first time you do it, spend a while just doing it over and over again. After that, do it 20-30 times every time you practice pitching, after you warm up but before you pitch from full distance off the rubber.
Why? If you crow hop, your body has never felt this movement before. You've got all kinds of other movements ingrained in your muscle memory, and you need to introduce this one to your body before you can expect to be able to perform it during the pitch.
Drill 2: Pitching Without the Ball (progression)
From drill 1, you can move on to this. I won't lie; you'll probably find this very annoying. However, it is THE most effective drill I've used to eliminate hopping. 99% of my pitching students with hopping problems don't hop when they mime their pitching motions without a ball in their hands. This is another great way to introduce the correct movement to your body and begin reprogramming your muscle memory.
After you've practiced drill 1, go through your whole motion without a ball, focusing on the push to drive-through transition from drill 1. If you have access to a field, it's best to practice this on dirt so you can get instant feedback. Smooth out the dirt every time so you can see the line your toe draws on the ground. There should be no gap between where you were standing to push off and where your drive-through line starts.
DO NOT be lazy about this drill. You can do a few in slow motion to get the hang of it, but you should work up to putting max effort into every motion, as if you were throwing the ball as hard as you can. You won't reprogram your muscle memory unless you simulate the feeling of pitching with the ball as closely as possible when you do this.
As with drill 1, spend a good amount of time on this the first time you do it. Then, every time you practice before you pitch off the rubber, do this 10-20 times. Then, try to pitch with the ball.
The following progression is very important: every time you hop, put the ball down and do the no-ball drill 3 more times, really focusing on the drive-through transition illustrated in the moving image from drill 1. After the third, pick up the ball, and without thinking too much, throw it. Instead of focusing on throwing a strike, just focus on how your body feels. Try to bring the feeling of the last mimed pitch into the first real pitch. If you hop, put the ball down and start again. If you don't, keep pitching until you do, then put the ball down and start again. Your goal is to gradually increase the number of pitches you can throw before you start hopping again, and eventually work up to eliminating the hop completely.
Drill 3: Correcting the Foot Turn
As I mentioned in my last post, turning of the drive foot prior to pushing off the rubber can be a contributor to crow hopping. While it usually isn't the sole cause, and it too stems from poor core strength, you will need to correct it in order to stop hopping. In this post, Joe explains more about what causes the foot to turn, and demonstrates some exercises for correcting it from a strength perspective. You will also need to address it with pitching drills.
Our favorite drill for this (and many other things) is Reach, Track, Fire. Coach Phil talked about this in detail in his last post, so please refer to that. Below is a simple example of the drill. When performing the drill and moving from reach to track, make sure you transition with your drive-through knee forward and only your big toe dragging on the ground. You can also practice the movement illustrated in the example above when moving from the reach phase to the track phase.
ADDITIONAL TIP: You can also help correct this foot turn by sandwiching the push foot between 2 bricks on the pitching rubber when pitching normally.
Drill 4: Correcting a "Hitch" in the Arm Circle
I mentioned in my last post that crow hoppers sometimes appear to have a little pause in the motion somewhere near the top of the arm circle. This is typically caused by the hop, but focusing on smoothing it out may encourage the hop to smooth itself out as well.
I also mentioned that the pitch can be broken down into 3 counts: 1 is the rock back, 2 is the load, 3 is the smooth, fast pitch. Pitchers with a hop and a hitch may pitch to a 3 1/2 or 4 count. You can correct that simply by counting to 3 out loud when pitching, making sure that the pitch portion actually fits neatly into that 3rd count.
Hopefully these drills will help some of you overcome your hopping. If you've had success eliminating your hop with another drill, leave a comment! We'd love to hear about it and share it with the softball community.