Do you want the secret to fixing all of your mechanical flaws and maximizing your windmill pitching potential?
Who doesn't? The truth is, while changing your bad habits may not be easy, identifying those habits is VERY easy. And that's where the process starts; once you know what to fix, you can begin fixing. Our softball video analysis can help you do that.
Over the years, we've seen a lot of pitchers with a wide variety of bad habits, and we take pride in our ability to identify mechanical flaws even at the high speed of a windmill pitching motion. When we slow that motion down and examine it one bit at a time, we can see everything. The best part is you don't have to see us in person to take advantage of our pitching analysis. With video analysis, you can take advantage of our expert pitching instruction no matter where you live! Use the links below to learn more about our softball video analysis service.
Who can benefit from Video Analysis?
What if I already have a pitching coach?
What is included in a Fastpitch Power Video Analysis package?
Sign-up and Pricing
How To Sign Up: Send us your video. You have three options:
Use our Video Analysis Submission Form
Send directly from your smartphone with your "email video" function to jill@fastpitchpower.com
If you have a YouTube account, you may upload to YouTube and email the video link to jill@fastpitchpower.com
If you are not using our form, be sure to include your name, your daughter's name, age, experience, and short list of goals/questions. Once we have received your video and ensured that we can view it, you will receive a confirmation from us via email. Please refer to the instructions for taking video below on this page. You may then click the "buy now" button below:
WINDMILL PITCHING VIDEO ANALYSIS
PRICE: $349
REDUCED-RATE SECOND ANALYSIS: If you've received a full video analysis from us in the past, you may want to check in again after you've worked on some things and note your progress. You'll be eligible for a shorter second analysis at a reduced rate, or a second phone consultation.
SECOND VIDEO ANALYSIS: $99
PHONE CONSULTATION: $50
Turn around for video analysis is approximately 1 week from when you reach the top of the queue. You will be informed of your place in the queue when we receive your payment.
What is Video Analysis?
Video analysis is the number one most valuable tool for any athlete in any sport at any level. In your case, you will take a video of yourself windmill pitching and send it to us. We will then watch it in slow motion, determine how your mechanics can be improved, and share that information with you.  Coaches can tell you what to do and what you're doing wrong, but without video analysis, not even the best coach can make you SEE what you're doing. Often, what you THINK you're doing, and even what you FEEL LIKE you're doing, is not what you're actually doing. The best way to really know what you're doing is to see for yourself. Watching the breakdown of your pitch can help you do that. And with our professional analysis, we can take what you see and use it to help you understand how to get better. Video analysis is truly an irreplaceable tool. We feel so strongly about it that we give a complimentary mini-analysis to all of our regular students.
"Video analysis has been extremely helpful to my daughter's development as a pitcher. Phil has a complete vocabulary for all aspects of the pitching motion, and he can explain what he is seeing using terms and concepts that both my daughter and me (not a softball coach or trained baseball player) can understand. Now, when my daughter I practice, we know what to work on. Initially, the analysis is all about basics, but over time the video work becomes more subtle, and there's a "baseline" to work from as my daughter's technique develops. No doubt pitching takes years and years to master, and my daughter has a long, long way to go. But video work with Phil has been a crucial part of the learning process. One of Phil's most memorable lines is: "Don't confuse achievement with excellence." In other words, striking out nervous batters in 12U or 14U tournaments is fine, but if you want to pitch at the highest level then the goal is to develop effective mechanics."

—Wally Levis, Parent
Who can benefit from our Softball Video Analysis?
Our video analysis can truly help any windmill pitcher of any age at any level. If you're a beginner, maybe you understand what your coach is telling you, but you can't really feel that you aren't executing the movements properly. Seeing video can really help the light bulb go off for a young pitcher. Maybe you're a 14U player who has been pitching for several years and lately you're just not seeing the improvement you want. Not only can we analyze your pitching mechanics, we can also use that information to determine your physical weaknesses and outline a strength training plan to get you to the next level. Even if you're an accomplished college level pitcher, I guarantee you have room for improvement. We can look at every frame of your pitch and tell you how to maximize your potential at every point.
"Fastpitch Power's video analysis showed my daughter improvements to make and used images of her pitching to show why the changes would help her pitching. A pitching coach can explain what you're doing wrong, but nothing beats FPP's use of video stills of a pitcher's own motion, along with customized video drills, to show a pitcher how to improve. Can't wait for the summer to put these suggestions to use!"

—Bill Duck, Parent, Salisbury MD
What if I already have a pitching coach?
Feel free to discuss the results of your analysis with your pitching coach in order to enhance your development going forward. When we analyze your video, we will be referencing (and clearly explaining) what we believe to be the most optimal mechanics that a pitcher can use. We cannot guarantee that what we teach will be exactly the same as what your pitching coach is teaching you, but this is not necessarily a bad thing. Maybe just hearing the same concept explained in a different way will trigger a better understanding. Or, through our analysis you may discover something new that makes more sense to you than what you were doing before.
My daughter Isabel has been going for pitching lessons to Phil and Carly Schonberg for about 3 years. Isabel is a freshman in high school and made the varsity softball team as the starting pitching and we owe it all to both Phil & Carly and their softball video analysis. By utilizing Isabel's video they were able to spot her bad habits and identify her mechanical flaws. When Phil utilized the slow motion feature and advancing frame by frame it really depicted the problem areas and he was able to provide great advice with correcting her form. Within a few sessions she was increasing her stride off the rubber and throwing the ball faster and with better accuracy. Video analysis is truly a great tool but it is how Phil and Carly perform their analysis and provide their recommendations which makes it invaluable. Thank You Phil and Carly!

—Sal Monaco, parent
What is included in a Fastpitch Power Video Analysis?
Once we have reviewed your video, you will receive the following:
A detailed, step-by-step written explanation of the problems with your pitching mechanics and how to fix them, along with an explanation of areas of physical weakness.
A complete series of still photos taken from the video showing every step of the pitch. The photos will be marked and annotated.
A fully marked and annotated series of photos exemplifying correct mechanics for comparison
A clear plan for moving forward based on your analysis, including suggested pitching drills.
Applicable video examples (if any) we think may be helpful in your specific case
A half hour phone or Skype consultation with one of our instructors regarding your video analysis.
Additionally, we offer customized online strength training consultations to help you achieve your goals (not included in video analysis package). Strength training is critical to your development and highly recommended.
Click here to see a sample video analysis.
Instructions for taking video
Have someone you know film you throwing 3 normal fastballs in a row from the side. All 3 pitches should be filmed in one take, so the end result is only one video file. The person filming should stand directly off to the pitcher's dominant hand side, to achieve an angle like this: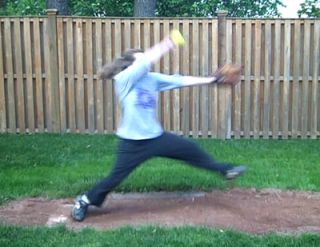 Make sure the pitcher is fully in frame from start to finish; do not cut off feet or hands, or any part of the pitch. In order to provide a complete analysis, this is the only angle we need. However, if you are able to take a front angle shot (from the catcher's point of view), we will include that in your analysis at no additional charge. We find that seeing the front angle is often extremely helpful, and recommend including it if possible. If you choose to include the front angle, you may send 2 separate videos.
You don't need a fancy video camera; you may use any type of simple recording device. The video function on a digital point-and-shoot camera is perfectly sufficient, as is the camera on a smartphone or other high quality cell phone. Any video file format is acceptable as long as it can be uploaded onto our site (see sign-up for instructions). We do not accept physical copies (such as DVDs, CDs, or tapes).
Feel free to contact us with any questions.