In case you missed it, a couple of weeks ago Joe put together an awesome and really easy to understand guide to upgrading your meals to fuel yourself better! Did any of you take up the challenge? I decided to hold myself accountable and share my day with you.
I happen to love to cook, AND I have a gluten sensitivity, but remember this isn't a strict diet; it's a set of guidelines you can use to make your meals your own. It's easier than you think!
Breakfast
Acai bowl + green tea. I didn't take a picture of my acai bowl, which is unfortunate because it was easily the prettiest thing I ate today! I love acai bowls in the summer. They're not all that different from smoothies, but sometimes I just don't feel like drinking my breakfast, you know?
If you've never made a delicious acai bowl, here's how I made mine!
Put frozen strawberries, blueberries, blackberries in a small blender (about a large handful total)
Add chia seeds and a big tablespoon of coconut oil (can be protein powder, almond butter, anything you want!)
Add acai puree slowly and blend. The consistency should be thick enough to eat with a spoon.
Top with granola and sliced banana, or anything you want!
Lunch
Hummus with carrots + cajun catfish (leftover) + cup of grapefruit juice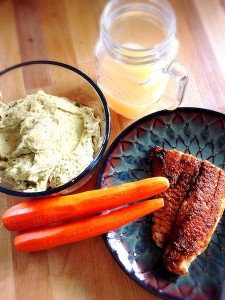 Dinner
Sauteed calamari + rice + purple cabbage slaw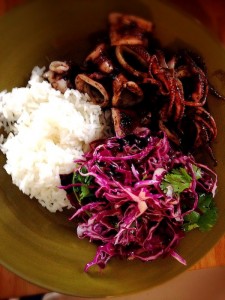 …and a cup of coconut milk ice cream for dessert!

How did I do?