We've talked a lot about how the force with which you push off the pitching rubber largely determines the velocity of your pitch as a windmill pitcher. It follows that the harder you push off the rubber, the longer your stride has the potential to get.
So the harder you push and the longer you stride the better, right?
Not necessarily. Though pushing hard off the pitching rubber does give you speed, that speed can be easily lost if you can't maintain your posture because your stride is uncomfortably long. Certain posture problems can rob you of much more speed than aggressive leg work can add.

Here is an example: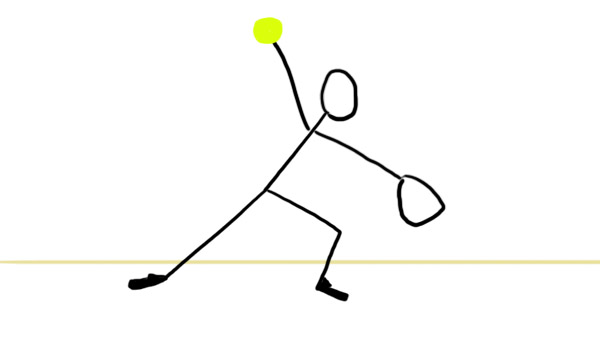 Please excuse the crude stick figure, but I don't have a photo example at the moment. This is a common posture that young pitchers assume upon landing when their strides are too aggressive for their own good. The lunge position, the low glove, and the anchored back foot all negatively affect speed and command.
In order to stride aggressively—roughly the distance of your own height or better—you must be able to do this:

This is Coach Jill, one of our instructors, pitching. Notice how her drive foot drags along the ground BEFORE she lands. This ensures that by the time her stride lands, her feet are a comfortable distance apart even though her stride was huge. This can be rather difficult, and many pitchers don't get a good amount of pre-landing drag until high school. Some high school pitchers even struggle with it.
If you do not have the strength necessary in your whole body to support this motion, what happens when you stride this far is your foot gets left back by the pitching rubber and when you land your feet are way too far apart to allow you to deliver the ball and drive through quickly. That results in the posture illustrated above.
How long should my stride be?
Your stride should be as long as possible without compromising your posture. Regardless of how far your stride went or how far your back foot was able to drag off the rubber before landing, you should look like Coach Jill in the above animation when you land: tall posture toward your back leg, arms balanced, feet roughly that close together. If you need to bring your stride in temporarily to achieve this, bring it in.
Then gradually work on increasing your stride length not by stretching your stride leg farther, but relaxing that leg and focusing on the strength of your push off the rubber. Begin to push harder and try to lengthen the distance you can drag your drive foot on the ground before landing. Your stride will increase naturally as that ability progresses.